To help big businesses to implement the best possible software into big and complex objects.
To be a center of excellence in developing state-of-art software for the audiovisual industry.
We are focused on our three core values – User satisfaction, Eco-Friendly solutions, and utilization of equipment to its maximum potential.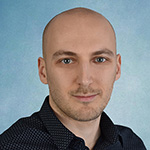 After obtaining a master's degree in electrical engineering and information technology in electroacoustics, Filip enters the world of audiovisual engineering. In the first years, he was focused on the auditory part of the industry, the other few years on the visual part of the industry, until he was completely in control of the audiovisual systems. Filip is a certified Crestron programmer, and, among other things, he is certified by QSC and BIAMP.