Pomoći velikim tvrtkama da implementiraju najbolji mogući softver u velike i složene objekte.
Biti centar izvrsnosti u razvoju vrhunskog softvera za audiovizualnu industriju.
Fokusirani smo na naše tri osnovne vrijednosti - zadovoljstvo korisnika, ekološki prihvatljiva rješenja i maksimalno iskorištenje opreme.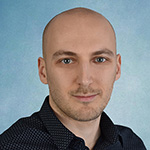 After obtaining a master's degree in electrical engineering and information technology in electroacoustics, Filip enters the world of audiovisual engineering. In the first years, he was focused on the auditory part of the industry, the other few years on the visual part of the industry, until he was completely in control of the audiovisual systems. Filip is a certified Crestron programmer, and, among other things, he is AVIXA CTS, as well as QSC and BIAMP certified.